❝ I just wanted you to know that you had a choice

❞

— Xiomara to Jane
Pilot
is the premiere of
Season 1
of
Jane the Virgin
.
Synopsis
Jane Villanueva (Gina Rodriguez) is a driven young woman studying to become a teacher, nursing a dream to be a writer, and supporting herself with a job at a hot new Miami hotel. All the years of watching telenovelas with the two women who raised her – her sexy, young-at-heart mother, Xiomara (Andrea Navedo) and her still-devout grandmother, Alba (Ivonne Coll) – have given Jane a slightly unrealistic view of romance, but her wonderful fiancé, Michael (Brett Dier), is supportive and even understands her decision to "save herself" until marriage.
All of Jane's meticulous life plans are turned upside down, however, when she sees her doctor for a routine check-up and is accidentally artificially inseminated with a specimen meant for someone else. Now, Jane is faced with the most important decisions of her life – a life that has suddenly become as dramatic, complicated, and unpredictable as the telenovelas she has always loved.
Plot
SPOILERS AHEAD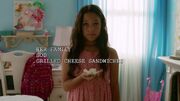 The show opens with a flashback featuring 10-year-old Jane Gloriana Villanueva. According to a voice-of-God narrator, Jane loves family, God, and grilled cheese sandwiches. We're then introduced to her abuelita whose interests include God and Jane. Just as Jane's instructed to examine the beautiful white flower her grandmother has handed her, mom Xiomara interrupts Alba saying that that's so lame. Xiomara—who had Jane out of wedlock when she was a teen—is interested in Jane and Mexican pop star Paulina Rubio. After Xiomara interruption, Alba continues to tell Jane to: "Crumple the flower, Jane. Now try to make it look new again. Go on, try," says Jane's grandmother in subtitled Spanish. "I can't." Jane says back a bit sad."You can never go back. And that's what happens when you lose your virginity. You can never go back. Never forget that Jane." Her grandmother tells her and teaches her to never lose her virginity too soon and before she gets married.
Fast-forward 13 and a half years later to a hot-and-heavy make-out session between a grown-up Jane and her boyfriend of two years, Michael Cordero, whom Jane has managed to keep sexually at bay. Mid-make-out, Jane looks up, where the crumpled white flower—which now sits in an attractive white frame—is posted above her bed. Time to practice some Chakra breathing techniques because Jane's about to shut this session down and send Michael—rookie detective badge in hand—on his way... So Jane stops before they get to having sex and she goes with him to the door to say goodbye to him. Michael leaves and Jane kisses him before he goes. After her goodbye, Jane goes into the house to watch telenovelas with her grandmother and mother. She tells them that telenovelas have ruined romance for her.
We're next introduced to Rafael Solano: a hotel owner, former playboy, and trapped husband. He's just received news about a financial crisis involving the hotel and is being consoled by his wife, Petra. She tells him to relax… and then heads downtown while Rafael gives a contented sigh. We all know what that means. (So far sexual acts on a show about a virgin include a make-out session, one sweet kiss, one telenovela smooch, and one bl-- job.) But Petra—who is introduced as a conniving "man-eater"—has a problem of her own: Her husband doesn't love her. Later on, Petra talks to her mother who happens to be psychic and tells her that her husband doesn't love her anymore, but Petra is convinced she's wrong. Meanwhile, at the hotel, Jane and her best friend Lina are in a locker room working in the hotel. Lina tells Jane that maybe Michael is going to propose but Jane denied that they have a timeline.
Next Roman Zazo enters the room and Lina asks him who he is; he works for the management company that just bought the hotel. He passes out straws to Jane and her female coworkers. Guess who gets the proverbial and literal short end? That'd be Jane. "Congratulations," says Roman. "You've got the tail." A mermaid tail, to be precise—which Jane wears as she floats on a half shell in the hotel pool, with a bottle of champagne in hand. The characters' worlds start to converge as this is Rafael's hotel. He's nearby debating with his sister whether he should get a divorce from pouty-lipped Petra. But this is a telenovela offshoot, so of course, Petra has been listening to their conversation the entire time.
Rafael gets up and walks straight into Jane's direction, which causes her to freak out. She dumps the bottle of champagne and belly flops into the pool. Thanks to Jane's friend (hereto referred to as Sassy Latina #1), we learn that they've met before: "You had a monster crush on him!" Before the rest of the cocktail waitresses can chime in, Jane volunteers to walk a couple of bottles of champagne to a waiting table. She's coolly pouring glasses for guests—well as coolly as a girl with wet hair, a bedazzled bikini top, and a skin-tight mermaid tail can—when Rafael walks over. She looks familiar, he says. Did he once meet her at the strip club? Jane's response: "Jerk."
Cut to Dr. Luisa Alver, Rafael's sister. She's home, taking off her tacones (that's high heels for you non-Spanish speakers) and walks to the bedroom, where she's greeted by the sounds of a few moans—it's her wife and a companion. She catches her wife cheating on her. Meanwhile, Jane is writing texts with her boyfriend and then goes to sleep. The next morning a sleepy Jane and a weepy Luisa kick off their days in a well-appointed doctor's office. The good—yet very sad—doctor is covering for another OB-GYN and has an insemination and a pap smear on deck.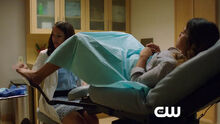 Although Jane misses the first part of the conversation because she falls asleep, upon waking she immediately notices two things: Luisa isn't her usual doctor and this doctor is barely able to control her sobs. Jane's a little concerned, but Dr. Alver is in and out quickly, so no harm no foul, right? Wrong. Dr. Luisa heads to the next exam room where the real artificial insemination patient is waiting: Petra. Which means Dr. Luisa accidentally inseminated a total stranger with her brother's defrosted sperm—the sperm meant for Petra, who wants to surprise her husband with news of a pregnancy. A cutaway to Chinese food by candlelight reveals Petra telling Rafael she's been inseminated.
But back to Jane. It's two weeks later and she and Xio are on their morning bus commute. Though Jane's feeling queasy, her sweet side isn't suffering and she volunteers to vacate her seat when nuns board the too-full bus. She gets up and hits the floor in a soap opera-worthy swoon.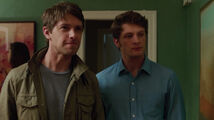 Jane wakes up in the hospital where she's told that she's pregnant. Hearing the news, Jane and Xio burst into laughter, as it's clearly impossible that Jane—who's never had sex—could be pregnant. Xio demands another pregnancy test, but another pink stick means it's true. "Imaculata!" Xio shrieks. "You are Imaculata!" With the majority of U.S. Latinos identifying as Catholic, this is a precious reference that feels simultaneously over-the-top and totally appropriate. Jane dismisses her mom's exultations—her mom is crossing herself and launching into a full-fledged Hail Mary—and proceeds to call Dr. Alver's office in order to get to the bottom of her so-called "immaculate conception."And Dr. Alver does have a very good explanation: "I accidentally inseminated you two weeks ago." the doctor said to Jane and she panicked and ran away.
Jane heads to her boyfriend's home, where he launches into a marriage proposal. It's a scene full of bad timing. Jane interrupts to tell him she's pregnant. And then the doorbell interrupts before the detective-in-training can fully analyze the situation—it's their families coming to celebrate her not-yet-given "yes." At the hotel, Rafael—who just learned his sister used his sample to inseminate a stranger—is drowning his feelings in a few cold ones at the bar with Roman. Surprise, surprise: Rafael wants the baby. We find out that Rafael froze some of his sperm as a precaution before being struck with cancer and that sperm represents his only chance to become a dad. Will Petra go for it? Roman is oddly reassuring—but that's neither here nor there (for now). And Petra does say she'd be happy to keep the bébé. Quickly, Rafael's phone rings and it's his sister, Dr. Alver. She has some news: Jane The Virgin actually is an employee at the hotel. Rafael arranges for Jane to stop by the pool, where Jane is about to apologize for calling him a jerk. After all, he's her boss. But that's not what he's here to talk about. Rafael tells Jane he's the father of the baby.
Jane tells Rafael that they have a history: They shared a smooch at the yacht club where she used to work. She tells him she's not ready for motherhood and Rafael never once mentions the C-word: cancer. Their meeting over, he calls Petra, who can't believe he didn't play the cancer card. She's about to hyperventilate when someone sits up next to her. It appears she's mid-nookie with none other than hotel manager Roman, who tells Petra to calm down and remember the math: five years married to Rafael equals $10 million.
We're suddenly part of the audience at a bar where Xiomara is channeling her idol, Paulina Rubio, as she shakes her thang in a fringed silver mini dress. After the show, Xio and Jane share a moment when Xio confesses that she always wanted to keep her pregnancy. It was her mother, Jane's abuelita, who had encouraged an abortion. The lesson to be learned? Jane has to make her own decisions and she makes up her mind to give the baby to Rafael and his wife, Petra. All this occurs as Rafael tells Petra he wants a divorce. The scene quickly shifts to some sort of sting operation involving Jane's detective boyfriend as a part of a team observing Roman, the hotel manager-slash-Petra's lover.
Back at the bar, the bartender tells Xio there's someone to see her. It's the leading man from the telenovela, the star who appeared before Jane in the exam room and... Jane's father—although he just learned about her. Someone has a lot of explaining to do... Over at police HQ, Jane appears to tell Michael that she's decided to give the baby to Rafael and Petra. She then proposes to him, much to the amusement of the detective squad that's gathered to observe them. He says yes!
Cast
Recurring cast

Guest starring

Daniel Kash as Dr. Spinoza

Co-Starring

Anton Narinsky as Adonis
Carmen Carrera as Eva
Sarah Delgado as Waitress Meg
Donna Pieroni as Nurse Sharon
Galica Vaca Lopez as Female Employee
David Haley as Another Cop
Greg Collins as Lieutenant Armstrong
Kimberlee Kidd as Pretty Teenager
Greice Santo as Telenovela Star
Johan Luis as Bartender
Tony Evangelista as Prankster Cop
Will Beinbrink as Club Manager
Philip Boyd as Handsome Guy on Bus
Katherine Castillo as Young Xiomara
Quotes
"You're starting to seem desperate, Petra. I do not blame you. Your husband does not love you anymore"
—Magda
Zaz – What's your name?
Jane – Jane
Lina – But everyone calls her Jaz
Zaz – Okay, "Jaz". Congratulations. You get the tail
"Abuela asked me never to tell you what she said and I... I didn't want you to look at her differently"
—Xiomara to Jane
"I think we bring out an ugly side in each other"
—Rafael asking Petra for a divorce
"And right now, I'm confused about every single thing in my life – except you"
—Jane proposing to Michael
Trivia
The show is written like a book. At first there's a prologue, then chapters
The day Jane learns she is pregnant is also the 2-year anniversary of when she and Michael started dating
Rafael's sister, Luisa, accidentally inseminated Jane
Petra wants the baby in order to secure her pre-nup money
Petra slaps Rafael when he asks for a divorce
Rafael had cancer and the specimen that inseminated Jane is his last chance to have a child
Jane loves grilled cheese
Jane, Alba and Xiomara watch the telenovela The Passions of Santos
Zaz is under surveillance, suspected of being Sin Rostro's contact at The Marbella
FLASHBACKS
Jane is 10 and Abuela tells her about the flower
PRODUCTION
Table read was on July 29, 2014
Filming for this episode began on July 28, 2014
Filming wrapped on August 5, 2014
This episode was watched by 1.61 million viewers
'Secrets'
Jane's father is Rogelio De La Vega, Jane's favorite telenovela actor — Xo kept his identity a secret from both Alba and Jane from when she was 16
Xo wrote to Rogelio about Jane 16 months prior
Rafael is the father of Jane's child
Rafael and Jane kissed five years prior and Jane had a crush on him
Petra is sleeping with Zaz, Jane's boss and Rafael's friend
Xiomara had sex with Bruce
Alba wanted Xiomara to have an abortion when she was pregnant with Jane, but Xiomara refused
Luisa's wife cheated on her with her assistant and they are divorced.
Locations
Miami

Hospital
Michael's house
Luisa's Office
Luisa's House
Miami Police Department
Music
una flor | JUANES
Jane kisses Michael goodbye as he's off to work/When Xo sees Rogelio in his new telenovela 16 months prior at Carla's Croquetas/At the end when Jane proposes
oh! magally | LEANDRO FALOTICO
petra reapplies her lipstick
going in | OAKFIELD MANSION
jane wears a mermaid outfit, serving on a plint in the pool
said and done | PAUL OTTEN
Raf tells Zaz about Luisa's mistake and wanting the baby
pampa | GUSTAVO SANTAOLALLA
Xo tries to help Jane and Jane says their situations aren't comparable
with you (acoustic) | DAN GAUTREAU & WOLFGANG BLACK
When Rafael and Jane talk about when they first met
me gustas tanto (cover) | XIOMARA VILLANUEVA
Xo performs the song against a backing track at a bar
las canciones | FEDERICO AUBELE
After Xo's show, she and Jane talk about the past and the baby
give up the ghost | ROSI GOLAN
Jane thinks on the bus
Photos
Community content is available under
CC-BY-SA
unless otherwise noted.