"

To give up money, like it's nothing. That, is love

"

—

Alba describing him to Jane
Mateo Villanueva is a recurring character on Jane the Virgin. He is portrayed by Dennis Mencia.
Character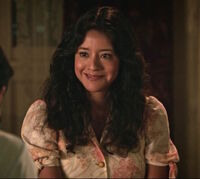 Mateo Villanueva came from a family of riches from Venezuelan oil. He and his brothers fought about the family wealth and Mateo gave it all up and decided to move to the US, as it was the wish of his wife, Alba Villanueva. Mateo worked very hard to provide for his family and, sadly, died at a young age. It is unknown when he passed away, but he was three years older than Alba and would have been around 69 today. He presumably died before Xiomara got pregnant, making him in his mid-40s when he passed away.
Mateo Villanueva is described as the love of Alba's life[1], and she is seen mourning the anniversary of his death on June 12, in a flashback[2]. Mateo is described by the Villanuevas as a kindhearted, hardworking man, who put family first.
Trivia
Physical Appearance
Mateo was of average height, with dark brown hair and brown eyes.
Photos
References