"

Really? Because I warned you. Karma's a bitch. And then you screwed me over again

"

—

Lachlan dumping Petra [1]
Lachlan Moore
is a recurring character on CW dramedy
Jane the Virgin
. He is portrayed by
Michael Rady
.
Character
Referred to by Rafael in 2010 as Emilio Solano's "Whipping Boy", Lachlan worked hard for Mr. Solano to eventually earn the title of Senior Vice President of the Maracay Hotel Group. MHG owns a majority share of The Marbella, making him Rafael's boss.
Lachlan was engaged to Petra in 2010 and as retaliation for being passed over for the promotion Lachlan got, Rafael stole Petra from him. Since then Lachlan has harbored animosity toward them both.
He was in alliance with Petra (securing blackmail material against her if necessary), and the two had a dalliance until Lachlan left and revealed to have played Petra, who had come to him for help after her split from Rafael and threats from Ivan and Milos.
Relationships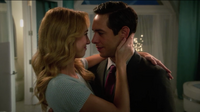 It is unspecified on the show when and how Lachlan and Petra first met, but in his first appearance, it is revealed that in 2010 he and Petra became engaged[2], indicating they would have dated for a while before, considering Petra thought Rafael's proposal was fast.[3]
Following his appearance at the Marbella, he almost immediately engages in an antagonistic relationship with Petra, who is revealed to have played him to Rafael's favour regarding a business proposal. In the exchange setting this up, Petra asks Lachlan to be honest about his feelings on Petra and Rafael's marriage troubles, to which he replies: 'Alright. Karma's a bitch.'
When Petra goes to Lachlan for help and, in the end, offers her body to him (and risks her reputation), they start up a new romantic liaison.[4]
Trivia
Rafael is his rival
He was engaged to Petra in 2010.
Photos
References