❝ The most important thing is that this... event, doesn't derail my life

❞

— Jane
Chapter Two is the 2nd episode of Season 1 of Jane the Virgin.
Synopsis
CALM, COOL AND CONFUSED — Jane (Gina Rodriguez) struggles to keep her unexpected pregnancy from taking over her life, but with her mom Xiomara (Andrea Navedo) pressuring her to sue the doctor who accidentally inseminated her, and her constant run-ins with the baby's biological father, Rafael (Justin Baldoni), life is anything but normal. To top it off, Michael's (Brett Dier) jealousy about Jane and Rafael's past leads him to make an unexpected alliance with Petra (Yael Grobglas). Meanwhile, Jane's own father, Rogelio (Jaime Camil), is insisting on meeting his daughter, but Xiomara wants to keep the secret from Jane a little while longer.
Recap
SPOILERS AHEAD
The episode kicks off with a flashback in which we see Jane enjoying her quinceañera, the Latin version of a coming-of-age party that is held on a girl's 15th birthday when her mom Xiomara decides to provide the entertainment with a rendition of Kelis' single "Milkshake." Her impromptu performance could have ruined the evening, but teenager Jane decided to keep her cool.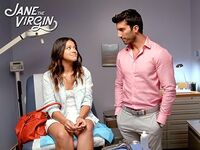 That precious bit of comedy could feel extraneous, but it provides context for the theme of this episode, which is that Jane feels she can control her emotions and continue with her plans (college, her relationship with Michael) despite the disruption of a baby. At the open, Jane decides in no way will she allow herself to be attached to the baby growing within her. That's her announcement during a family meeting—over grilled cheese, natch—and she's sticking to it. After all, she has a history of calm under semi-traumatic circumstances. So here on out, Jane says, life will continue as planned and she will casually refer to the baby as "milkshake." As in, "I can't wait to give this milkshake to its rightful owners."

Her decision is important because it implies choice: up to this point, Jane has been the recipient of both advice and opinion on what to do with her child. Though she's now made her choice—she'll carry the pregnancy and coolly give the baby to the biological father and his wife—the consequences of that decision aren't clear-cut or final. It's an interesting territory for a comedic soap, as it consciously explores the narrative around a young Latina's choice to pursue a career and a personal life rather than a so-called obligation to family and culture.
But can Jane really give her baby away? Emotions notwithstanding, what if Petra—whom Jane hasn't met yet—turns out to be Catalina Creel, as abuelita suggests? So Jane decides to meet Petra, which happens when everyone congregates for a sonogram that changes Jane's mind as to how much she's willing to connect with her child. Though did you really think that Jane would give up the baby without her emotions protesting? Again, this was a neat nod to the struggle between head and heart, culture vs. career.
Meanwhile, the other big plotline—whether Jane will sue Dr. Luisa for medical malpractice—bubbles to the surface. Dr. Luisa just received official notification that her license has been suspended (for her snafu with Jane, we assume) but she's taking precautions and has called another ex-lover who happens to be an attorney (how many hot lesbian lawyers will be on this show anyway? It seems like Dr. L definitely has a type) to read through the fine print on her medical insurance coverage agreement. It turns out that Rafael put up his shares of the hotel as collateral so that Luisa would have coverage, being that with her previous alcohol addiction, she had been deemed uninsurable.
Stress heightens the hormones and Dr. Luisa and Rose engage in a hot-n-heavy makeout sesh. Rose, it turns out, is married to Dr. Luisa's much older father and is her stepmom. ¡Qué horror!
But you know who's not having sex? Petra and Roman. Well, they do, but just once before Petra calls it off because Michael has threatened to tell Rafael about the affair unless she ends it and she sincerely wants to try to make her marriage with Rafael work, and not just because she wants to milk him for all that he's worth. And then, after she's made her decision, Zazo dies. How convenient.
So, let's theorize a bit here: Did Petra push Zazo off his hotel room balcony? Could Raf have done it? Though it does seem unlikely that anyone with those soft, plushy-looking lips could possibly have murderous thoughts. Is there any other suspect? As it turns out, there is. We find out that Michael was spying on, er, observing Zazo because he had some type of connection to one of Miami's biggest drug cartel leaders, who's currently under investigation by the local police. So did someone within the cartel do it?
And it wouldn't be a true telenovela if there weren't some progress with that whole who's-yo-daddy storyline. As Rogelio, Jaime Camil—the real-life star of numerous novelas including Mujer de madera and La fea mas Bella—has made it clear that he wants to be a part of Jane's life. Now, this might be a happy scenario, but Jane is going through stuff—and it's pretty much the worst timing ever to meet dear old dad. That's Xiomara's rationale, and no one can fault her for it. After making the decision to keep her pregnancy and become a mother, her entire identity has revolved around protecting Jane (cue the retelling of the "Milkshake" flashback). Making sure the time is right to introduce Jane to her dad seems appropriate. But by her account, Xio is a bit of a screw up, so it shouldn't come as a surprise that she further complicates the decision by sleeping with Rogelio (though who could resist: He's just so cute and after all, he is her favorite soap star and baby daddy to boot!).
I felt this week's episode had all the promise of a super gooey, deliciously melty grilled cheese à la Jane, but what was served up instead was a sandwich made with the unwanted butt of the bread (I can't be the only one that uses that term to refer to the first and last slice!) with cheese that's stubbornly refused to melt. It just didn't satisfy my craving.
Though the episode didn't carry off the effortless comedy that the pilot did, the show did move forward at a digestible pace while maintaining both the sweet emotional nuances of the previous episode and nonchalant approach to multicultural diversity that made it so endearing. (And let's be honest for a moment: the breakneck pace of the pilot might have been too hard to maintain over a standard season.) There was also some definitive progress with the central storylines—the appearance of Jane's father, Raf and Petra's marriage, the reason for Michael's superspy gear—and plenty of new plot points as well. All that being said, there's lots of food for thought, so grab your grilled cheese and let's get to it:
–Petra and Raf's relationship in the beginning of the episode was very different from the way it was when it ended. Raf was insistent on a divorce; Petra was against it, presumably because she needs/wants the money. In the end, Petra's given up her lover and seems sincere in her desire to want to start over with Raf, who acknowledges they've both made mistakes. Will we hold him to what he said? "I don't know if we'll get past them, but let's give it a try."
–Jane decides to sue Dr. Alver. Will this complicate her blossoming relationship with Raf? He's promised Jane it won't, but remember, Jane does say she wouldn't mind being rich one day. Is it all possible that our sweet virgin could succumb to the pressure of her hotel employee friends and rack up a lengthy list of demands and/or a monetary settlement?
–Speaking of Jane and Raf, they had their share of touching moments this week. They had a sweet exchange during the sonogram and again at the hotel party, where Jane told Raf he inspired her to chase her dream of becoming a romance novel writer. I have to ask: Is their connection evolving too predictably?
–Xio is an aspiring singer and whenever she breaks out into song—decked out in spandex, of course—it's a bona fide moment. I cannot wait for the episode when she tries to pull out all the stops in an effort to impress Paulina Rubio's producer (who will be played by guest star Juanes). And what did you think about this week's deep dive into her emotional backstory? The heart-to-heart she and Jane have on the porch was so sweet and gave us added perspective about her journey toward becoming a caring mother, despite her guilt about continually being a "screw-up." –How amazing was lead Gina Rodriguez in this episode? She did it all: She made jokes, she cried, she got all emosh, and in the process, confirmed her status as this season's breakout star. #fangirling
–We still don't know the extent of Luisa's medical history and her past mistakes. We know she used to be an alcoholic—it seems like addiction runs in the family, with tonight's discover that pre-cancer Rafael was not only a playboy, but dabbled in lewd acts with arrests to boot—but what else? She's one of the most complex characters on the show, and it should be interesting to see how her story arc develops. Plus, she gets a lot of action on the show and I'm not mad at that. –Actor Jaime Camil is pretty fantastic—one can palatably feel the fun he's having as he pokes fun at the genre that made him famous. And there's a lot to love about his subtly narcissistic lines, which given the context, are wholly appropriate. Like this gem in reference to Jane: "I want my daughter to have the pleasure of knowing me. I want to be a part of her life."
–I have to shout out abuelita, who definitely has some of the best one-liners in the show. And that melodramatic faint when she found Xio and Rogelio in bed together? So rewind-worthy. I also adored the classy peach pajamas that she wore in her final scene. That felt like a pure genius by the wardrobe department, as that style is a staple in every Hispanic grandmother's closet. –Petra's mom: the tarot cards, the facial disfiguration, the silk caftan, and that wheelchair. Make no mistake, as this character is channeling soap opera tropes in the kookiest, most delicious way possible. "I already read the cards. I already know this outcome." Momma implied she made some kind of sacrifice for Petra—any guesses to what it might have been?
–Did anyone notice the use of tinkling music and drum beats throughout the episode in the tradition of Lifetime's Devious Maids? Dislike. I think use of Latin music in the pilot added additional authenticity—steering well away from standard prime-time drama—and I hope it continues to be an important part of the show. We want Pitbull! On that note, let's compile a fantasy playlist for Jane. I vote for some classic Ricky Martin's ("La Bomba!"), some music from Shakira's catalog back when she had black and/or curly hair and definitely, most definitely some Chayanne. And maybe some Selena, Romeo, Rubén Blades, and Juan Luis Guerra.
–What happened to Luisa's wife? Will we ever see her in the flesh, or was she just a mechanism by which to unleash Luisa's demons? –I'm fascinated by the appearance of Raf and Luisa's dad. He's bald, he's rich, he created monsters of children and he has a lesbian wife, who's cheating on him. There's plenty of fodder here for a terrific meltdown, and I think he's just the man to do it. Or what if he meets Xio when she performs at the hotel—and they hook up? Can you imagine the drama?
Starring
Recurring cast

Co-Starring

Brian Dare as Luca
Butch Klein as Jim
Greice Santo as "Blanca"
Stacie Greenwell as Sonogram Technician
Jordan Diambrini as Superfly Date
Omar Chavez as Frantic PA
Quotes
The Narrator – Jane's Quinceañera was, without a doubt, the worst party she'd ever been to. But not for lack of effort. In fact, Jane had planned the day down to a tee. The flowers. The entrance. The perfectly choreographed dance with the "Superfly Date". What she didn't plan? That her mother would take over the mic and perform the number one hit currently sweeping the nation.
Xiomara – ♪ My milkshake brings all the boys to the yard. ♪ And they're like, it's better than yours. ♪ It's better than yours...
―The Narrator
Luisa – So if Jane sues me...
Rose – ...your brother's hotel could be on the line
―Rafael
"Why did she order an ice sculpture of a wizard?"
—Rafael about Petra
"I said Marlin, not Merlin!"
—Petra
"You get to be selfish now. You don't have to worry about anyone else — just yourself, okay?"
—Xo to Jane
"Your voice, Xiomara. Unforgettable"
—Rogelio
"I became an international superstar just a few years ago. Imagine what a disservice it would have been to the world if I had given up"
—Rogelio to Xo
"I get to be selfish now – not you"
—Jane to Michael
"What about the other man you whored yourself out to?"
—Magda to Petra
"Are you gonna start writing?"
—Rafael to Jane
Trivia
Jane's quinceañera is shown at the start of the episode.
This is the first time Michael attends the family meeting
Luisa and Rose's relationship is revealed.
Luisa's medical license is suspended
Rafael offers Jane money directly to not sue Luisa
Rafael was arrested once
Zaz assaults Petra, but she fools him and gets away
Rafael got cancer in early 2013
Jane started working at The Marbella in 2010
Emilio Solano likes to fish
Rafael tells Jane that Luisa is the one who helped him, telling him to focus on the bright, which is what Luisa tells Rose she is doing
Luisa is a recovering alcoholic
Jane wants to write about romance
They hear the baby's heartbeat
Michael gets jealous of Rafael and asks Jane to quit her job.
An informer named Cortez has pointed out Roman Zazo as a Sin Rostro contact
Michael tells Petra that he knows about her affair with Roman Zazo
Michael spies on Jane and Rafael
PARALLELS
Clear parallels are drawn between Rogelio and Rafael, in their inspiring and supporting Xiomara and Jane, respectively; Rogelio remembers Xiomara is a singer, Rafael remembers Jane is a writer and both encourage the women to pursue their dreams
LOCATIONS
PRODUCTION
The table read was on July 22, 2014[1], which is also Jaime Camil's birthday
This script was ready on July 14, 2014
Filming began on August 1, 2014
This episode was watched by 1.36 million viewers.[2]
'Secrets'
Luisa's lover Rose is her step-mom
Jane reveals to Michael her past with Rafael
Alba finds out that her daughter is sleeping with her favorite telenovela actor
Roman Zazo is violent
Music
milkshake | KELIS
flashback to Jane's Quince
una flor | JUANES
Flashback to Xo seeing Rogelio on TV, googling him and then the present: Jane takes the bus to work/at the end alba watches Passions of Santos, sees Rogelio in Xo's room and faints
tonight we live the life | PENNY SHAW FEAT. HERSH
the hotel party
wrong things right | GUSTAVO GALINDO
michael apologises
let it go | JAMES BAY
"kissing music", rafael gives petra another chance
Photos
Notes and references
Community content is available under
CC-BY-SA
unless otherwise noted.