Chapter Forty-Eight
is the 4th episode of
Season 3
of
Jane the Virgin
.
Synopsis
IT'S NOT THAT SIMPLE — Jane (Gina Rodriguez) and Michael's (Brett Dier) housewarming party in their new home hits a snag when they discover they are being evicted for not paying their rent. Rogelio (Jaime Camil) is still trying to break into American television but needs some unusual help from Rafael (Justin Baldoni). Xo (Andrea Navedo) makes a new career choice, but Alba (Ivonne Coll) and Jane aren't convinced this is the one for her. Meanwhile, "Petra" (Yael Grobglas) shocks Rafael with what she wants to do with her shares of the hotel.
Recap
Jane and Michael are settling into married life, making way for new problems to arise for themselves, their family, and their friends. Namely, Rogelio continues his fight to break his way into American media, taking out writer Amanda Elaine (Jane Seymour) to try and land a part in her book that's being adapted; Xo is on the job hunt and lands a position as a banker, but absolutely hates it; and the Marbella staffers plan a walkout when Scott abuses his authority. As always with Jane the Virgin, that's just the tip of the iceberg where drama is concerned, and you can bet wardrobe played a huge role in all of it. Let's start with Amanda, whom Rogelio takes to lunch to see what he can do about landing a role as a sexy baker. (Delicious, isn't it? See what I did there?) Turns out, she's the sexy one in a fitted, electric-blue, off-the-shoulder dress with a cleavage-showing cutout — and what she wants is for P.Y.T. (pretty young thing) Rafael to be her +1 to a charity event. That's a blow to Rogelio's ego, but he'll do anything for the part. He soon starts buttering up Rafael, and eventually, Rafael begrudgingly agrees to go, but his efforts aren't enough in the end. Amanda tries to seduce Rafael and he's having none of it, so Rogelio is no longer in consideration. Too bad, but the events lead Rafael and Rogelio to strike up a friendship (Michael says he's okay with the bromance but is he really?) and we get to see Rafael looking real dapper for the event (more on that below).
After announcing she was going to pursue new job opportunities, Xo lands a position as a banker. Amazing, right? It seems that way when we find her at work, looking very professional in a chic, sleek white blazer, helping a customer seeking to withdraw $5 million from his account. But that's not all he wants to take out — he asks Xo to join him on his yacht. Yep, we're in a daydream. In reality, Xo is miserable as she helps an elderly man with some major attitude. She ends up quitting but doesn't want to tell Alba. She's forced to, however, when Alba finds her — dressed in another A+ office-appropriate outfit — at the Marbella and offers to take her to work. When they get to the bank, Xo pretends to still work there but is asked to leave by security. So Xo and Alba have a heart-to-heart and basically acknowledge Jane was the peacemaker… Maybe things are different with her having moved out, but they can still talk through their problems. And talk through, they do. Alba tells Xo she doesn't want her to stay in a job she hates, and Xo tells Alba she shouldn't do that, either — so Alba quits her caretaking gig and starts working at the Marbella gift shop she had been frequenting.
Jane and Michael discover Petra had secretly been helping them out with rent when she suddenly stopped paying, so even after having an unpleasant confrontation with Petra about the needs of the Marbella staff, Jane invites Petra over for dinner. Petra (actually, Anežka) invites Scott along, and though they all look like a happy foursome at the dinner party — donning pretty dresses and nice menswear — they are far from cheerful. When Scott offers Jane the extra $1,000 a month she needs to make rent in exchange for getting the Marbella workers onboard with hotel activities, Jane turns him down and says she can't be bought. Then she asks Petra if Scott has been blackmailing her, which is a theory Rafael had previously run by Jane. Petra says this judgment is exactly why she wants out of the Marbella, but we all know that's not the real reason; in actuality, she wanted to sell her shares because her mother's friend from jail (played by Glee alum Dot-Marie Jones) showed up and told her it was time to finally do the deed, and she had 72 hours to make it happen. YIKES.
The person Anežka needs to make the sale happen? Rafael, but we'll get to that transaction shortly. First, let's look at Rafael in the dashing blue suit he wears to accompany Amanda to the aforementioned charity event. Unfortunately for Amanda, Rafael turns down her advances. (Fortunately for us viewers, we get to see him looking really good. I've always been Team Michael, but don't hate this…) Now I'm wondering when Rafael will accept advances or make advances of his own, and from/to whom. He recently admitted he was over Jane, and given Jane is now married, the Jane-Michael-Rafael love triangle seems to very much be a thing of the past. So when will Rafael find another romance of his own and dress up for a date he wants to be on? My guess is in due time…
Lastly, there's Jane and her coworkers dressed in feathery, bright-pink flamingo attire for "Flamingo Fridays," an event Scott's pushing much to the dismay of, well, basically everyone. The staff abandons the walkout to work the event, and Jane learns that has something to do with Scott paying Lina. They get in a big fight, but there's a bigger battle ahead. Jane tries to apologize to Petra for what went down at her dinner party — as Petra's being threatened by Magda's friend about not selling her shares in time — so Petra freaks out and pushes Jane into the pool, and Jane drags her in with her. They have a full-on catfight, and Lina and Scott jump in to break it up. Needless to say, a lot of "Flamingo Fridays" attire is ruined. On the upside, Jane and Lina make up when Lina explains she took the money because she's under more financial pressure than Jane, who has Rogelio and Rafael to help out if she needs it.
Their talk leads Jane to realize she and Michael, who had been budgeting throughout this episode to find a way to make it work in their new home, should move into a smaller, more affordable place with Mateo. Their housewarming at the end of the episode actually becomes a goodbye party. Other noteworthy moments? So many, but the biggies are that Petra (again, Anežka) confronts Rafael, and tells him he's not only going to approve the sale of her Marbella shares, but he's going to hand over his shares, too — or she's going to tell the police about some shady financial dealings he did to save his father's reputation after his death. After that tense confrontation, Petra walks out and squeals upon seeing Jane, and that's when Jane pieces it together. She immediately tells Rafael she doesn't think Petra is Petra. Will the real Petra finally be freed?! Until next week…
Starring
Recurring cast
Guest starring
Jane Seymour as Amanda Elaine
Dot-Marie Jones as Magda's Friend
Co-Starring
Jason Huber as Jason Tartuffe
Christopher Allen as Dennis Chambers
Carla Vega as Detective Oliva
Jessica Caban as Sonia
Scott Michael Morgan as Property Manager
Shannon McClung as Man
Annie Korzen as Mrs. Cohen
Donnell Turner as Handsome Customer
John O'Leary as Old Man
Melody Peng as Caitlyn
Michael James Lazar as Security Guard
Estefania Rebellon as Alejandra
Michelle Jubilee Gonzalez as Julia
Quotes
Luisa – I just feel so bad, you know? My brother doesn't deserve this. No matter how many times I've failed him, he's always been there for me. And then now that he has no family, I still can't pull it together and be there for him
Rogelio – Rafael does have a family: the Villanueva family
―Aw
"May I just say: you're a good, good man, Rafael Solano. And I'm sorry I didn't realize that earlier"
—Rogelio
Rafael – It's okay. But I do think I should tell you I don't think you're gonna get that part
Rogelio – It doesn't matter. You're more important
―Familia
Trivia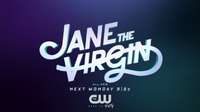 From now on the word Virgin is crossed out on the title card and logo.
Rogelio and Rafael finally become friends.
Rogelio tells Luisa that Rafael has him and the Villanuevas as his family too.
Jane and Michael move to a smaller apartment, and the narrator says, with an ominous tone, that it doesn't go as they expected.
After everything that happened with Rose, inspired by Rogelio, Luisa decides to go into preventative rehab.
Jane lies about her and Michael's budget and they have a fight about independence and handling money.

Jane doesn't think Michael's good with money and Michael retorts he's been on his own for a decade and that she's been living at home or helped by Rogelio.

Alba doesn't like her nursing home job anymore and takes a job as a shop assistant in the Marbella gift shop, Seashells.
Rafael made a deal with the police to not be jailed for insider trading which is void if he has other undisclosed illegalities. "Petra" (Anežka) threatens Rafael with revealing them lest he gives her permission to sell her shares of the hotel and also sells his own shares within 24 hours.
The police are watching Luisa.
Michael's partner, Dennis, comes to the goodbye housewarming and tells Michael the 4 words they found underlined in Elena's bible: Angels guard the sun/son.
Jane realizes that "Petra" is Anežka and tells Rafael!!!
'Secrets'
After Emilio was murdered, his finances included illegal stuff that Rafael covered up in an effort to protect Emilio's 'legacy', which was Rafael's focus and priority at the time.
Photos
Media
Notes and references
Community content is available under
CC-BY-SA
unless otherwise noted.