"

Everybody here, your fiancé... they think you're such a good guy

"

—

Billy to Michael in Pilot
Billy Cordero
is a reccuring character on CW dramedy
Jane the Virgin
. He is portrayed by
Ryan Devlin
.
Character
Billy is Michael's younger brother. The two have a very strained relationship, Michael stating at the beginning of the series that he, "friggin' hates" him, though as the season progresses the brothers start working together at times when Michael goes rogue, in his search for Sin Rostro's identity. Billy also starts dating Lina (Jane's best friend and co-worker), which they keep a secret for a while before telling Jane and Michael.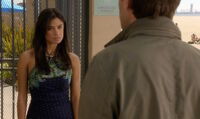 When Billy was younger, he and Michael used to steal cars and sell the parts for money. When he was 16, they got caught and Billy ended up taking the fall for Michael, as Michael was of age and had priors. This event changed the course of Michael's life, whereas Billy, unfortunately, stayed in shady business dealings, which Michael bails him out of when he has problems. In Season 1, Lina gets him hired on the wait staff at The Marbella where he ends up working with Michael in the latter's efforts to expose what he thinks are Rafael's criminal activities in the hotel.
Trivia
Took the fall for Michael when he was 16.
Dated Lina in Season 1 – current relationship unknown
Likes skirting the law – gambling, helping Michael with Rafael, etc.
He asked Michael for $2000.
Photos